Description
TRU Extend is a new asynchronous professional learning opportunity to help you enhance your digital teaching skills at your own pace! Adapted from the Ontario Extend modules, and remixed to suit TRU's unique context, you will have the chance to earn badges for completing 6 different modules, as well as a capstone module. An LT&I team member will be your asynchronous learning guide! There is no time limit! Complete as many or as few modules as you like. Log into Moodle and get started today!
Facilitated By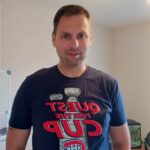 Matthew Stranach
Coordinator, Educational Technologies
Matt has been an educator for more than 15 years. He cares deeply about teaching and learning in face-to-face, hybrid, and fully online modalities. He blogs about e-Learning at Mondays and Fridays.