Description
Lights, Webcam, Teach!

said no instructor ever.
In the past year, many educators have used media in their academic work to great success. Some have discovered new skills and practices they will continue to use as alternative forms of classroom engagement. These ,"educational media" can take many forms, live streamed lectures, screen recorded presentations, explainer videos, infographics, voiceovers and more.
Virtual meetups
This Meetup group is open to all in the TRU community that are making media in a scholarly context or are interested in doing so.
LT&i will host a bi-weekly, virtual meetup as a space to share your educational media experience, geek out on the latest gadgets, open resources and nerdy news. Join us to watch, listen and share our stories.
---
Check in online at https://bigblue1.tru.ca/b/jas-adj-qxy first, but we are likely to use other virtual spaces as per the groups preference.
Facilitated By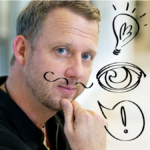 Jason Toal
Educational Technology Coordinator
Jason has been an Educator and Educational Technologist for the past 25 years. From the sketchbook page to the webpage, he creates learning experiences on the topics of Visual Practice, Educational Media, and Open Educational Resources. With a background in art, design & interaction design, he specializes in the human aspects of learning technology and the innovative use of media.